North Carolina's Outerbanks Adventure
Legends, Lighthouses and Lore!
The lure of the sea has always been strong with my family.  I fell in love with the outer banks of North Carolina almost 30 years ago and it continues to be my favorite place in the world!   From the majestic lighthouses to the gently swaying sea oats on the dunes, to the fabulous fresh local seafood and awesome sunsets, the beauty and mystery surrounding this fascinating group of barrier islands is sure to captivate you as well!
Embark with me on this amazing journey into a world of wild horses, the lost colony,  pirate legends, and unspoiled coast lines as we explore North Carolina's Outer Banks!
Day One: Travel to our first destination depending on your departure point.   Groups can overnight in Charlottesville and experience Monticello and dinner with Thomas Jefferson!  Or spend a day in Mt.  Airy, boyhood home of Andy Griffith and enjoy the quaint "Mayberry" experience!
Day Two: Arrive to Grandy Greenhouse for some of the best local North Carolina produce featuring their famous homemade jams, jellies, and apple cider!  A box lunch will be included along with some of Miss Ally's famous frozen yogurt!  Then it's off to the outer banks where we will journey to the town of Corolla.   We will visit the first of four lighthouses, the Currituck Beach Light.  Climbing is available weather permitting.
This afternoon we arrive to our host hotel for three nights with ocean front rooms and a fabulous walking beach!  Dinner will included at theSugarcreek Restaurant on the sound featuring prime rib, seafood platters, fresh baked corn bread, and delicious desserts!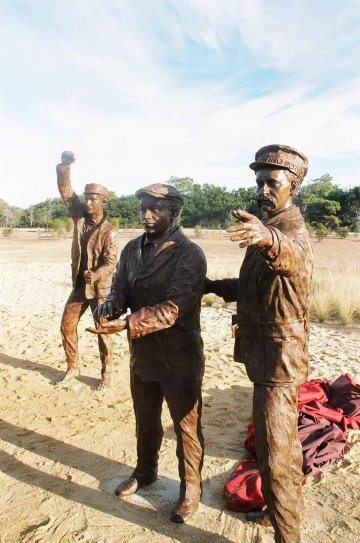 Day Three: Following breakfast at the Inn, we will depart to theWright Brothers Monument and Park.  See where the famous First Flight occured and enjoy a park rangers program on the events leading up to the  historic day!  Climb the famous Kill Devil Hill and walk the grounds where the Kitty Hawk landed her famous first flights!
We will enjoy some free time to browse the quaint waterfront area of the village of Manteo on Roanoke Island, home of the Lost Colony!  Lunch is on own at Poor Richards Deli on the boardwalk.  Our adventure continues at Festival Park to tour the replica sailing ship the Elizabeth II, stroll down to the settlement, and enjoy a film "The Legend of Two Path" which features the Native American perspective of the first English settlers.
We return to the hotel for an afternoon to enjoy a leisurely walk on the beach, or put your feet up and enjoy the view from your private balcony overlooking the sea!  Dinner this evening will be a fabulous family style feast at Basnight's Lone Cedar Cafe for luscious crab dip, mouth watering BBQ ribs, lightly dusted fresh shrimp, sauteed tuna, and more!  Enjoy the best key lime pie on the east coast while watching local favorite celebs Ricky and Lucy (mated Opsrey pair) nesting outside our banquet room window overlooking the sound!
Day Four: Rise and shine for an early start to begin our Cape Hatteras National Seashoreexperience!  We will stop by the Bodie Island Lighthouse for photos then continue on to theCape Hatteras Light, tallest brick lighthouse in North America!  Learn more about the Move of the Century and climbing is available weather permitting!
Our day continues with a  forty minute ferry ride to the magical Ocracoke Island, considered to be the Pearl of the outer banks!  The island was once home to legendary pirate, Blackbeard, and will enchant you with the 13 miles of pristeen beaches and quaint fishing village.   A delicious seafood buffet at Jimmy's awaits us upon arrival to the island, then we will enjoy free time to explore the art galleries, boutiques, lighthouse, and more.  On our way back to the ferry, we will stop at the famous Ocracoke Beach, rated number one in US twice in the last decade by Dr. Beach!  Search  for some "treasures"  as you dodge sandpipers and plovers scurrying along the shoreline!
We return to our Inn for an evening free to enjoy another great seafood establishment,  or enjoy the evening on your balcony or deck with some great local pizza!
Day Five: After breakfast we depart to Charlotte for a tour of the Charlotte Motor Speedway.  Enjoy laps around the NASCAR track in the pace vans and free time to browse the gift shop.  Whether you are a race fan or not, this is a fun and exciting destination!  We will check into the Drury Inn and Suites and enjoy a fabulous authentic Italian Feast at Ciro's Bistro.
Day Six: Depart for home with memories of an amazing week filled with awesome food, fabulous scenery, and the sound of the sea in your soul!
Call for your custom designed package with pricing.  Overnight stops en route to outer banks depend on your departure point, and can be arranged by me or on your own.  I look forward to sharing this magical place with you!   Carol Glessner 877-359-5282. johnandcarol44608@yahoo.com.
COMING SOON!  New packages:  OBXMAS  (special Nov. and Dec packages) and Taste of the Beach Progressive Dining Packages in February and March!  Great rates and new ways to experience the outer banks!
Begin your next adventure today!
Call toll free 1-877-359-5282or local 330-359-5282
Country Coach Adventures
Carol Glessner
13519 Stoneford St.
Beach City, Ohio 44608
1-877-359-5282
330-359-5282
Email: johnandcarol44608@yahoo.com