Can be adjusted and customized to fit your schedule!
Day One:
Check into one of our beautiful local inns. Check out our list of partners under accommodations. Enjoy a family style feast tonight with Amish country cooking featuring delicious meats, sides, and homemade bread and assorted pies!
Day Two:
Depart with your local guide for back country roads touring throughout the day. We will include a morning stop at The Farm at Walnut Creek. Feed exotic animals as you enjoy a guided wagon ride tour, see an Amish home, and enjoy snacks in the kitchen along with beautiful gardens and scenery! Watch the workers create hand dipped confections at Coblentz Chocolates and indulge in scrumptious samples. After lunch on your own and shopping time at the Amish Country Flea Market, we will visit Keim Lumber which features a gorgeous building dedicated to home building supplies and more. Enjoy the best ice cream in the area at Walnut Creek Cheese along with a fabulous array of bulk foods, spices, and kitchen gadgets. Tonight we will embark for a wedding style feast at an Amish farm and fellowship with the family!
Day Three: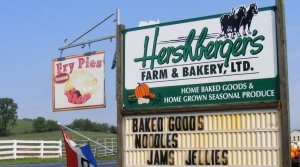 Depart with guide to Hershberger Bakery and Farmers Market for the best fresh baked Amish pastries featuring their famous fry pies, stuffed cookies, cream sticks, local produce, and farm animals to enjoy looking at including Big Ben, largest Belgian Draft Horse in the US! We will also watch cheese making at Heini's Cheese Chalet and sample over 50 varieties of locally made products made with only Amish farm milk! We will also include stops by local Amish Artisans and Craftsmen for a behind the scenes look into locally made furniture, candy, baskets, candles, and more! Tonight we will enjoy a bountiful buffet supper at the Farmstead before departing to the Amish Country Theater for a fun filled two hour comedy and musical variety show!
Please contact Carol Glessner, Country Coach Adventures for your complete Ohio's Amish Country package! Rates vary seasonally. Theater begins Mid May through December, call for show times and availability!
Toll free 877-359-5292